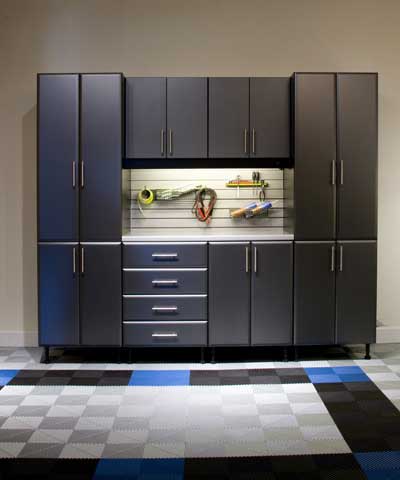 GARAGES & WORKSHOPS
Add Workspace To Your Home
Don't feel bad! When it comes down to it,how could a space that's supposed to hold your tools, sports gear, hobby needs, holiday decorations, and a motley assortment of household items not get cluttered? Oh yeah… and you are supposed to get a car or two in there.
Proving that nothing is impossible, the answer is surprisingly easy: let More Space Place help you reclaim your garage.
Utilizing enclosed cabinetry, garage shelving, garage storage racks, and versatile system of patented wall hooks and hangers, our Garage Systems bring order where there was once chaos. Even better, these customized systems make it effortless to keep it that way.
ENDLESS OPTIONS
Garage Wall Cabinets and Shelving – Extra sturdy is key here, designed to withstand the heavy use garage calls for fully customizable according to space and needs.
Slat Wall System – Our ingenious, interchangeable system expands storage and use functional accessories are available to create a place for everything. Keep your most used tools within easy sight and reach conveniently mounted and movable to most any wall.
Work Benches – Custom designed to fit your needs, and finished with an impeccable surface. Available in standing or sitting heights.